Marbella Property Market Report 2019
Kindly provided by Panorama Estate Agents - www.panorama.es
By Christopher Clover, FRICS, Managing Director of Panorama, Marbella's longest established real estate agency.
Christopher Clover has been writing about Marbella property for 49 years.
Modern day Marbella began in the mid-1940s with the arrival of the charismatic Ricardo Soriano Sholtz von Hermensdorff, Marquis of Ivanrey followed by his nephew Prince Alfonso von Hohenlohe and his father, Prince Maximilian Egon von Hohenlohe-Langenburg, and their role in the building and opening of the Marbella Club Hotel in the mid-50s.
Ricardo Soriano, Prince Alfonso, and those people they brought with them to Marbella were influential in creating one of the very first models in the world of "residential tourism" which is a type of tourism identified with the purchase and use of second homes. In fact, many dwellings evolve from being a holiday home to something closer to a primary residence, as their owners often evolve from a tourist status to a status resembling that of an immigrant. Due to the affluence and vastly increased mobility of modern society, residential tourism, as pioneered by Marbella and other Spanish coastal areas in the 1950s, has now become a worldwide phenomenon.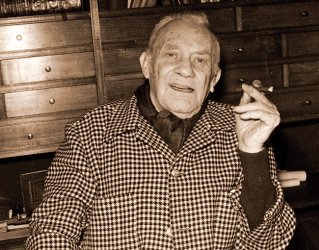 Thanks in large part to the vision of Don Ricardo ( see photo on the right) and Prince Alfonso, along with the leadership of many influential people they invited to Marbella during those years, and of many other personalities that followed, right up until today, Marbella has been incredibly fortunate to remain a low density, low rise, high quality jewel on the Mediterranean, unlike the overbuilding prevalent to the east of Marbella and in many other coastal destinations. For a brief history of Marbella, read our article Marbella of the 70s, Our First Years.
Due to its incredible climate in the southernmost point of Europe, added to the care taken in its development over the years, Marbella, with its 12-month season, is unique on the entire Mediterranean coast, in contrast to other resort cities which close down at the beginning of autumn and gradually come back to life in the spring. Even in the middle of the winter, Marbella still buzzes with activity and events of all types due to its winter population of at least 300,000 inhabitants, between the official and the "floating" unregistered population.

Consistent pace of development and a focus on high-quality properties
Over the last years, since the market began to recover in 2012, the greater Marbella area (including Estepona-East and Benahavís) is now seeing hundreds of new properties being built with an emphasis on modern design, most with state-of-the-art installations, including intelligent home systems that allow absolute control of the entire home by just pressing a button, even remotely. In the most consolidated residential areas, there are hundreds of properties that were built at least 20 years ago, and are now being completely refurbished to the highest standards to satisfy the requirements of the current market. The key word now is quality, and never before has Marbella seen such a wide variety and choice of high quality properties available for sale.
The greater Marbella area is in the process of fulfilling every expectation of measured, quality, sustainable real estate development along with substantial modernisation and improvement of infrastructure and services. The result is the increasing popularity of this unique area as a true oasis for year-round residential tourism that caters to the more sophisticated and discerning lifestyle needs of today's buyer, as well as to the classic tourist that stays in hotels and rented accommodation. Over the following sections we will analyse in depth the state of the real estate market in this area today.

In 2018 overall residential sales in Spain matched only 2008 levels, while the number of foreign buyers broke records
On a national level, according to the Ministry of Public Works and based on the figures of the National Institute of Statistics, 2018 ended with the best results of the last ten years, with 557,919 residential properties sold (not including public housing sales) of which 50,875 were newly built properties and 507,044 sales of resale properties. These figures represent an increase of 9.4% over the previous year with a sharp upturn in sales noted in January 2019.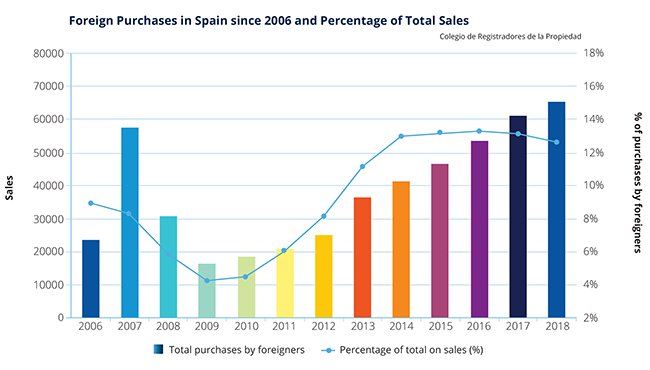 The Land Registry 4th quarter 2018 reports (page 22) that 12.64% of the buyers in 2018 came from outside of Spain, led once again by the UK, representing 15.54% of the total number of foreign buyers who bought twice as many properties purchased by either Germans or French, second and third respectively.
(Note: there is a slight variation between Land Registry statistics and that of the National Institute of Statistics due to the time difference between signing the deeds and the registration of them.)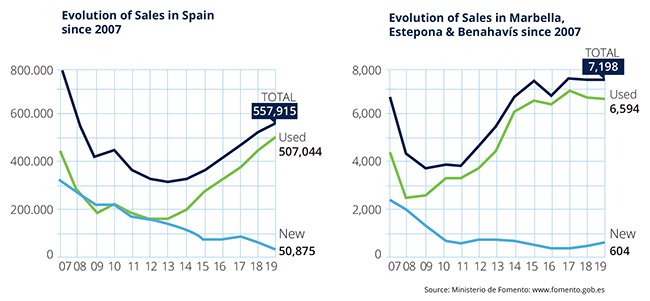 Real estate expert José María Basañez, CEO of TecniTasa, (one of the largest valuation companies in Spain) is confident in a stable growth of the Spanish property market. He recently stated that "the real estate market is undergoing a moderate and sustained increase…which leads us to believe that this tendency will last, at least, for the first half of 2019".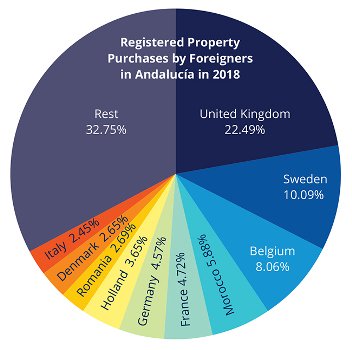 Other professionals were less reserved in their assessment: the most important real estate investment trusts (SOCIMIs), including Merlin y Colonial (quoted on the Madrid Stock Exchange) and the national property developers Neinor, Aedas, Metrovacesa and Vía Célere, are all in agreement that "the foundations of the market are solid and there is excellent potential for growth in the next two or three years, even though more moderately now than in the past five years".
Coming closer to home, in Andalucía, foreign buyers (according to the 2018 statistics of the Registry's Annual Report) represent 13.12% of total purchasers. It is worth noting that nationalities of buyers change according to the region.
As has been the case for decades now, British nationals are the top ranking foreign buyers in Andalucía by a large margin of 22.49%, followed by the Swedes with 10.09%, and the Belgians in third place with 8.06%. In the Balearics, for example, the leading nationality was the Germans at 37.67%, followed by the British at 15.30% and the Italians at 6.47%.
In the province of Málaga, foreign purchasers represented 28.98% of all residential buyers in 2018.
It is interesting to note that the greater Marbella area sales volume has remained on about the same level for the last five years, showing a stable market which is in the process of consolidating with none of the signs of overheating as before.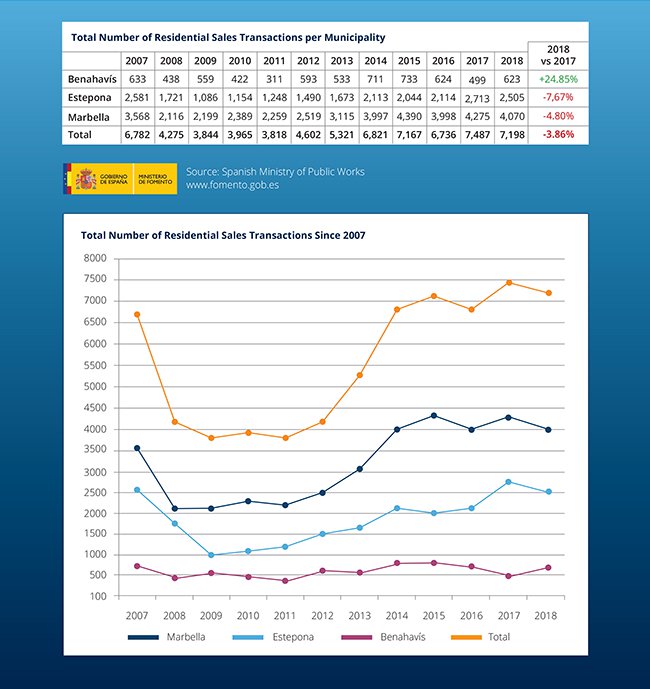 Brexit Impact
As shown by the statistics given at the beginning of this article, the British market is by far the most important single foreign market, and even more so in the province of Málaga. Since the Brexit vote in June 2016, there has been a decrease in the percentage of British buyers compared to other nationalities from 21.34% in 2015 to 15.54% in 2018, whilst the actual number of British citizens buying property since the year before the Brexit vote has increased (9,116 sales in 2015 compared to 10,166 sales in 2018), Registry's Annual Report 2018.
Whereas the overall market increased by 39.76% from 2015 to 2018, the British market only increased 12%.
Please see the chart below on the right for the number of British purchases (compared with all foreigners buying in Spain) for 2018.
At the time of press, it is not clear when Brexit will happen, how it will happen or even if it is going to happen at all. At this point in time, there is no clear roadmap in the British government with respect to this issue.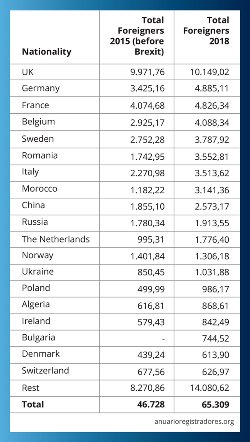 At the end of the day, there is little doubt that the British market will remain the most important single foreign market for purchasing property in Spain and in the Marbella area in the foreseeable future, as it has been every year since Margaret Thatcher lifted the exchange controls (then called the Dollar Premium) in two steps way back in 1978 and 1979. The market has certainly been affected by Brexit, as one can see from the below figures, but the question is, how much more will the British buyer be affected?
The strength of the UK market will, in great part, be related to the strength of the UK economy and of course, to the pound sterling. In this sense if there is a "hard Brexit" scenario without agreement, the British economy is going to be more severely affected and consequently the British market.
The British market share that is more likely to be affected is the market priced under €800,000. Surprisingly, rather than relinquishing their dream of joining the incredible lifestyle on offer due to the drop in value of the pound, it would appear that more budget-conscious UK citizens are simply tightening their belts and buying less expensive properties, or buying cheaper properties to refurbish or obtaining mortgages at what still are historically low interest rates.
As in any other sector, those with higher budgets will be less affected. Indeed, a good number of the most expensive property sales in 2018 were made to British nationals, many of whom were already residents outside the UK. At the same time, we believe that other issues that are causing uncertainty (i.e. pensions, health care, residency) will all be acceptably resolved, albeit a lot easier if there is a Brexit deal, and with more difficulty without one. Spain has already announced that if there is no Brexit deal, British residents will be allowed to maintain their Spanish residency until at least December 2020.
Finally, just as uncertainty of any type affects markets anywhere, so uncertainty generated by Brexit is postponing some people's plans to purchase second homes.

Property Prices
Nationally, in 2018 residential property prices rose an average of 6.7%, the largest increase since 2007 and the fifth consecutive year of increases. Notwithstanding, prices have only now reached 2011 levels and have a long way to go before reaching the pre-crisis highs.
Clearly there are exceptions to the above, in specific high-demand, prime and ultra-prime residential areas throughout the country. As mentioned previously, sales volume in the greater Marbella area now exceeds pre-crisis levels, but in the locations with highest demand, prices now also exceed pre-crisis levels simply because demand in those areas is now greater than supply. In Marbella, for example, beachside properties on the Golden Mile especially around Puente Romano, and other specific, highly desirable locations, both east and west of the city, have reached record prices.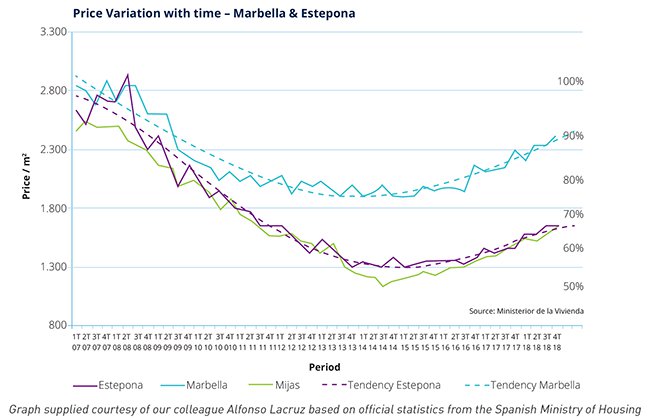 Hard evidence shows that the average prices in the greater Marbella area have not yet reached pre-crisis highs, as illustrated in the above graph, based on price statistics from the Spanish Ministry of Housing.

Resale asking prices sometimes overly-optimistic
Due in part to the historical lack of reliable statistics in Spain with respect to real sales prices, many owners place their properties on the market at prices which are overly optimistic. Some have gone too far, pricing their properties at a level that doesn't even entice viewings. Consequently, their properties are not even reaching the market place. This is not unusual in this market and eventually with time, those asking too much will have to accept the reality that the market is good, but not that good!

New developments being sold off-plan or under construction
Fausto Martinez, CEO of FM Consulting, specialises in the promotion of new residential developments and has distinguished himself as a top professional for the quality of his work over almost three decades. In recognition, he was awarded, in November 2018, the prize for Outstanding Businessperson by the prestigious Centro de Iniciativos Turísticas (CIT) of Marbella, a local association of business people and professionals with approximately 500 members. Fausto notes a slight decrease in visits to the new developments: "In recent months we've noticed a lessening in the number of visits to the new developments we are promoting which is clearly due to the increased number of new projects currently available on the market on the Costa. Clients looking for a new property today find an immense range and variety of new developments on offer; so many that they are not able to view all of them."


Clearly, with more projects being built, and with approximately the same number of potential buyers to spread amongst them, some will sell better than others. Therefore it's more important than ever for buyers to use very knowledgeable and experienced agents to guide them from development to development and help them discern among the many products on offer. So many new projects are beginning to create a very competitive marketplace which is always an advantage for buyers. As always, it is those projects which are in the best locations, with the best design, quality of finishes and most competitive in prices which will be most successful in selling.
The above chart, compiled by Panorama, is illustrative of the numbers of new projects, of units being built, sold or reserved and those which remain to sell. These numbers include only major property developments and do not include hundreds of individual properties which have been or are being refurbished, new individual villas under construction, or dozens of small developments of less than 10 units for sale.
The numbers are significant in that they reflect the boom of new projects in Estepona, a healthy increase in Benahavís, and a slower development in Marbella, the latter due in part to the continued delays in the granting of building licenses by the Town Hall (even though the time required has improved significantly), and also due to the shortage of prime fully-zoned development sites under Marbella's current General or Master Plan.
In 2018 the Málaga Architects' Association (Colegio de Arquitectos) approved projects representing 1,107 residential units to be built in Estepona, compared with 800 the year before, according to the statistics published on January 19th by the association. In Marbella, there were projects approved for the building of 587 properties compared with 252 the year before.
It is likely that we will see new large scale building projects starting to materialise at a slower rate now that the best building sites have already been sold, and prices for the few good building sites left are increasing. Building costs are also increasing substantially partially due to the shortages, once again, of skilled labour and certain building materials.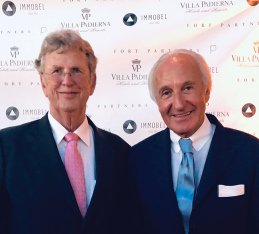 Ricardo Arranz de Miguel (photo on right with Christopher Clover) is owner of the Villa Padierna hotel and one of the area's pioneer property developers, with projects such as Los Flamingos, La Quinta, Monte Halcones and several others to his credit. He is also President of the National Association of Property Developers and Residential Tourism, and one of the partners in the exciting new Four Seasons project. He gave us an enthusiastic vision of what he has termed for many years, the Golden Triangle of Marbella, Benahavís and Estepona:
"Residential tourism continues to be one of our main economic pillars. Parallel to this business sector, the arrival of large international corporations interested in building first class hotel complexes stands out. Four Seasons, one of the most important brands in the world, is already a reality in Marbella and I am convinced that its presence will attract other new initiatives. News such as this should awaken our enthusiasm.
It is necessary to convince – and obtain the commitment from – both the private sector and public administration to take advantage of this historic opportunity that the Costa del Sol offers at this moment. We have to keep encouraging the public administration on all levels to make a greater investment commitment and lend special sensitivity and support to those projects that will nurture our surroundings while bringing wealth to our community.
All private development projects undertaken should be sustainable and environmentally friendly on one hand while the public sector should encourage private investment by providing the necessary infrastructure that will satisfy the more demanding requirements of today's society, thereby guaranteeing a smooth coordination and coexistence between private investment and the public sector.
Only by working in this way together, will we be able to guarantee the future of the Golden Triangle of Marbella, Estepona and Benahavís and continue its consolidation as the highest quality and luxury destination that has always characterised this area."
Having followed the evolution of real estate in this area with fascination for almost 50 years, we totally support the words of Ricardo Arranz. Gone are the days where people will choose to come to the Marbella area exclusively because of its good weather. The seeds of "quality residential tourism" which were planted in the 1950s by Ricardo Soriano and Prince Alfonso and those who followed them, are still growing and flourishing, appealing today to a much broader market than at the beginning.
Marbella is quickly moving into a new era of world-class residential tourism, with property developers who are far more sophisticated than in the past, who are working successfully to attract the more seasoned, cosmopolitan buyers and tourists of today. While a greater contribution is still needed from all levels of government, progress is being made. It's an exciting time to be involved in real estate. As Ricardo Arranz says, "There is a feeling of optimism and excitement in the air!"
Copyright @ 2019 Panorama Properties S.L.